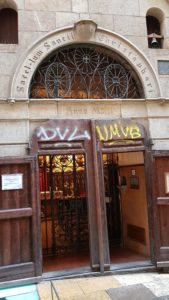 Plans to take the boys to the Tibidabo fun park come immediately undone as the damn place doesn't open until tomorrow. After some googling for alternatives, I am set free to wander the streets of Barcelona without either of Messrs Let or Hindrance, nor wife neither. My day off. I stopped to open the hotel door, just.
Straight back to the old town. A long wander, window shopping and sticky beaking. Some snapshots – the glamorous youngish woman pushing a stroller, her smartly dressed husband spotted later, fully thirty metres behind her, dragging two enormous cases on wheels, and looking contemplative. The unshaven chef in the back street, chatting with his friend while he smoked a joint, the sharpish herbal smell detectable over a sizeable fraction of the Gothic Quarter. Round the corner, the bong shop. The sixteenth century, and only just at that, chapel of St Christopher, tiny and graffitied.
Audio: Mercat de Santa Caterina, Barcelona
Next stop, the Cathedral of Santa Maria of the Sea, lovelier than the larger one of yesterday. Made friends with a statue of a man and his pig.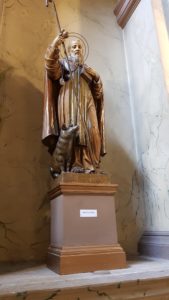 Just outside is the stark, unlovely memorial to the dead of the siege of 1713-14, a 20th Century steel arc, with fresh flowers. Such trouble taken for those so long gone.
After the cathedral, a long ramble, some shopping. Paella for lunch. Down to the waterfront and the column bearing Cristóbal Colón, pointing weirdly along a great circle towards the south-east that would nowhere intersect the Americas. Then a stroll along the water front to Barceloneta, every shirtless yob mentally decked out with an English accent, whether or not he opens his mouth. Who says one can't be racist against one's own?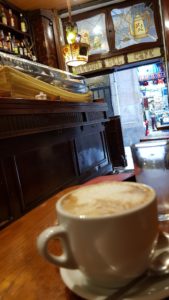 Back to the apartment and the boys dragged out to tapas, about which Seb whinges, but in the end patatas bravas are just bloody chips, so all is well. I will leave Barcelona tomorrow sadly, consoled only by the thought that were I to stay, I would be dead of heart disease before I turn 60.
This is is a city whose character is plain. It is filled with monuments to the nation that never was, save briefly and under fire. Barcelona the Lucky, says one. To the glorious fallen, say many. It feels like a young city, that has been here for two thousand years. These people will fight when they need to – and survive defeat, when they must – as they have before. I like them.
Audio: Barcelona metro