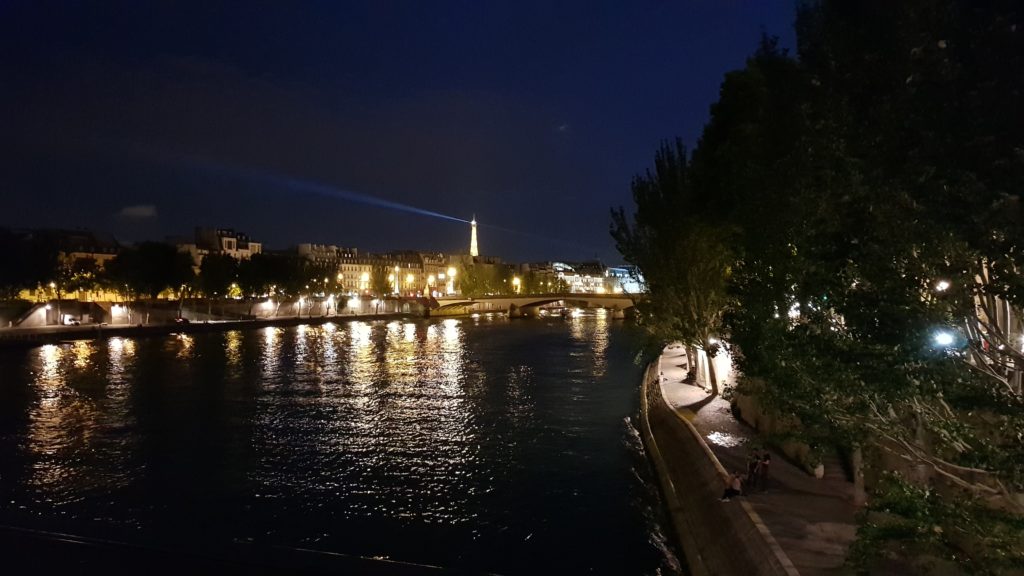 I don't really remember the Place de la Concorde from my childhood visit, or if I do, it was filed under "incomprehensible", because it's enormous. I take one photo from one corner, and then flee. Up the Champs-Elysées to the statue of Charles de Gaulle, an opportunity for a history lesson on the subject of "France in the 20th Century", number about 4 in a series, some syllabus overlap with "Germany in the 20th Century", a series of which we've had the introduction, the later lectures to be delivered in Berlin. Along the way we pass Avenue Franklin Delano Roosevelt, lesson 5. I hope Raf's taking at least some of this in. If we get home and he denies all knowledge of la Deuxième Guerre Mondiale, I will pout for days.
Audio: Station République, Paris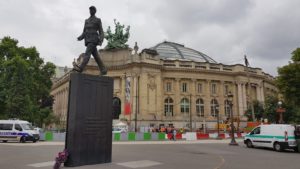 Before we get to within decent photographing distance of the Arc de Triomphe, we've all had enough, frankly – kids bickering and Anna and I snapping at each other. I try to negotiate the purchase of some telecommunications with Orange, and fail. In the end, we buy a €10 phone for Anna and a cheap SIM, and hope that's enough. Then to the Marais, where the Museum of Magic has been recommended by a friend. Unfortunately, it's not open, but the area round the Rue Saint Antoine is pretty and fun until it starts to rain. To escape the rain, we jump on a bus which I think is heading back towards the centre. It isn't, because north is that way, not that way, and by the time I realise the mistake we're well on the way to the suburbs. Pas de problème – off the bus and onto the metro to the Île de la Cité or, as we know it, Gaulish Lutetia. Round the corner and that, lads, is perhaps the most famous cathedral in the world. Yes, inside it looks pretty much like every other Catholic cathedral we've already dragged you into and no, we won't make you stand in line to have a look. Alright, one Orangina, and then we can go back to the hotel.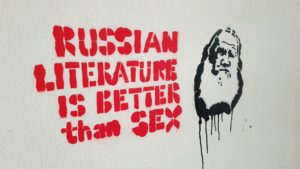 Everyone crashes, so I take a walk, down to the Rue de Rivoli, to see if I can find the hotel in which my mother and I stayed in 1984. I find one near where it must have been, just past the Hôtel de Ville – the Hôtel de Nice, which may or may not be the place. Back to our hotel on the Rue de la Ville Neuve to gather the gang for dinner. Seb demands sushi and nothing but, so he and Anna head off thusly. But I, on my ramble, have discovered Rue des Petits Carreaux/Rue Montorgueil, a cobbled strip of café life, so Raf and I get a pizza among crowds of the fashionable and the sociable.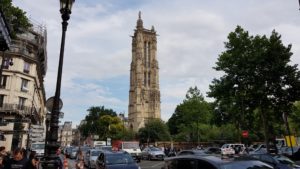 Once back, everyone crashes again, but I can't sleep, so I sneak out for a final look around Paris. A walk to the Seine, the Eiffel Tower striping the sky with its lighthouse beams, the Palais du Louvre, then back on the metro. Nearing midnight, the true nature of the neighbourhood is more apparent – I am propositioned twice by professional women within fifty metres. My first would-be friend is an attractive Asian woman in chic clothes who backs off at a shake of my head. The second encounter is with a couple of solidly built black women, both dressed so as to leave no doubt as to their intention, who head towards me quite agressively. One tries to take my hand, and it takes a repeated, stern "non!" to shake her off. As I turn the corner into the street where our hotel – quite a fashionably turned out place, certainly no flea pit – nestles, I notice that the little cinema a few doors down is of a specialist variety I had thought rendered extinct by the internet. But then I thought that of streetwalkers, too, which shows how little I know. What I do know is that in this neighbourhood, a lonely man might find it very easy to have that loneliness sharpened exquisitely, at the cost of a few euros, and some human dignity.
Europe 22 – Rain in the Marais