Audio: Stazione Firenze SM Novella
A last poke around Florence. Plans to get over the Arno to the Piazzale Michaelangelo foundered on the rocks of the Florentine bus system. After ten minutes sitting on a stationary bus, the driver arrived and said something in Italian which sounded dismissive, but then, it always does. Everyone who apparently spoke Italian got off, leaving only us and another young tourist. The driver said something even curter to her, and we all got off. Back to Piazza Santa Maria Novella for a drink, then a last go on the Carousel della Repubblica, a bite and we're on the Frecciargento this time, once again doing 250 km/h without seatbelts. Many tunnels as we make light, or should that be dark, work of the Appenines.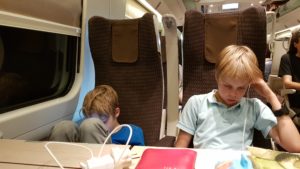 At least, the work was light for a while. Half an hour into the journey Sebastian was fabulously, ebulliently sick, covering himself, his clothes, his seat and the floor in lunch. We made a fair fist of cleaning it up but the remainder of the trip was spent in the lingering odour of Parmesan cheese and ripe sneakers. I hope they mop these trains daily.
In the excitement, I missed our stop at Bologna and was only just back in my seat in time to see the Po flash past. I trust that the shade of Giovanni Guareschi will forgive me that I was not more alert as I passed, for perhaps the only time in my life, through the valley to which he took me so often.
Audio: Trattoria Pontini, Fondamento Cannaregio, Venice

Finally, Venice. Like Florence and Rome, it is full of Americans, and I keep telling myself that Americans who have been overseas are Americans who know that other countries really exist, which is a good thing. Venice also contains people like those who run Trattoria Pontini on the Fondamento Cannaregio, who despite a queue round the block will not hear of providing a mere tub of salad for me to take home to Anna, sitting with sick Sebastian, but instead send me off with a heaped bowl on their best crockery, to be returned whenever we can. Before going, a hasty plate of anchovies on rocket followed by a slower and superb gnocchi al Gorgonzola set me up nicely. Back at the apartment, Anna launches into her salad while the littlest one sleeps off his wobbles. A good end to a full day.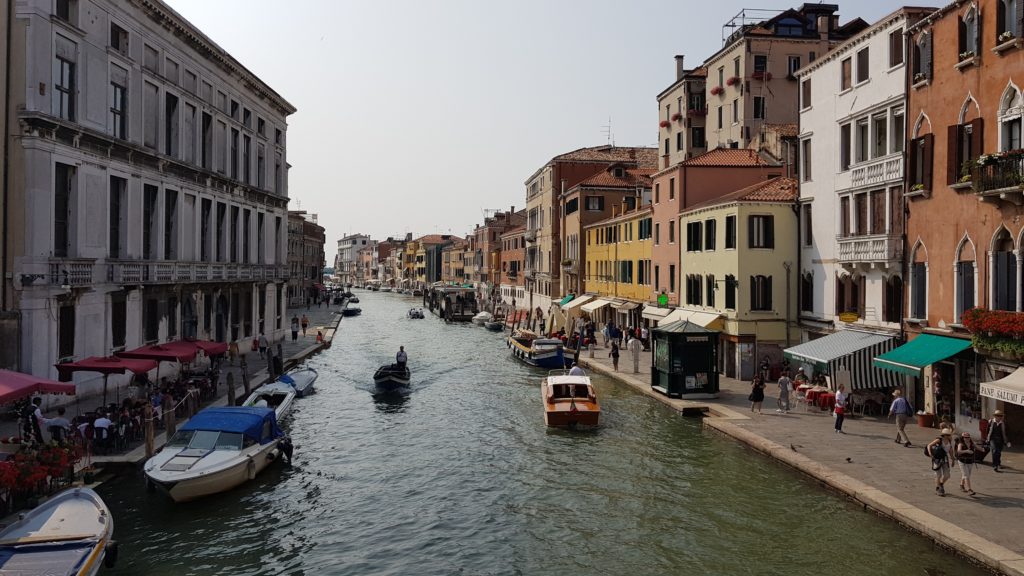 Europe 11 – Under the Appenines