A two hour flight takes all day, of course, or at least well into the evening. Within thirty minutes of landing in Italy, I know two things. At the airport (!) an espresso costs €1.10. Also, these people have completely recovered from fascism – our train was late. Well, cancelled, more accurately, so we got on the next one, the Leonardo Express, which then sat in the station for fifteen minutes, including three public announcements advising those who did not wish to travel that it was time to leave the train.
Everything was very modern and clean, however, including the 2D bar code on the tickets that checked us in through the turnstiles. Why, therefore, twelve seconds after we left the platform a conductor came and punched two holes in everyone's ticket – without once glancing at them – I do not know. Perhaps he was charged with checking whether, despite the three announcements, anyone somehow remained on the train without having formed an intention to travel.
Our instructions for our apartment, at Via del Pellegrino 105, involved collecting the keys from the café at Pellegrino 87. At Barnum Café no-one knew anything about it, for a moment, but eventually found the envelope. Asked whether, to find number 105, we should walk west or east along the way, the barwoman was again nonplussed, but helpfully came out with us to look at the numbers, going up the street on one side and down on the other, so that we could all shrug our shoulders together.
Eventually, of course, the universe fell into order. Dinner was pizza and pasta in Campo de' Fiori, five minutes walk away. The boys took less time than that to declare prosciutto a very poor substitute for Barossa Fine Foods Gypsy Ham and the Romans not a patch on their father where making a decent pizza is concerned. They must have been disappointed, because they both ate my all'amatriciana, a rare excursion into the unknown.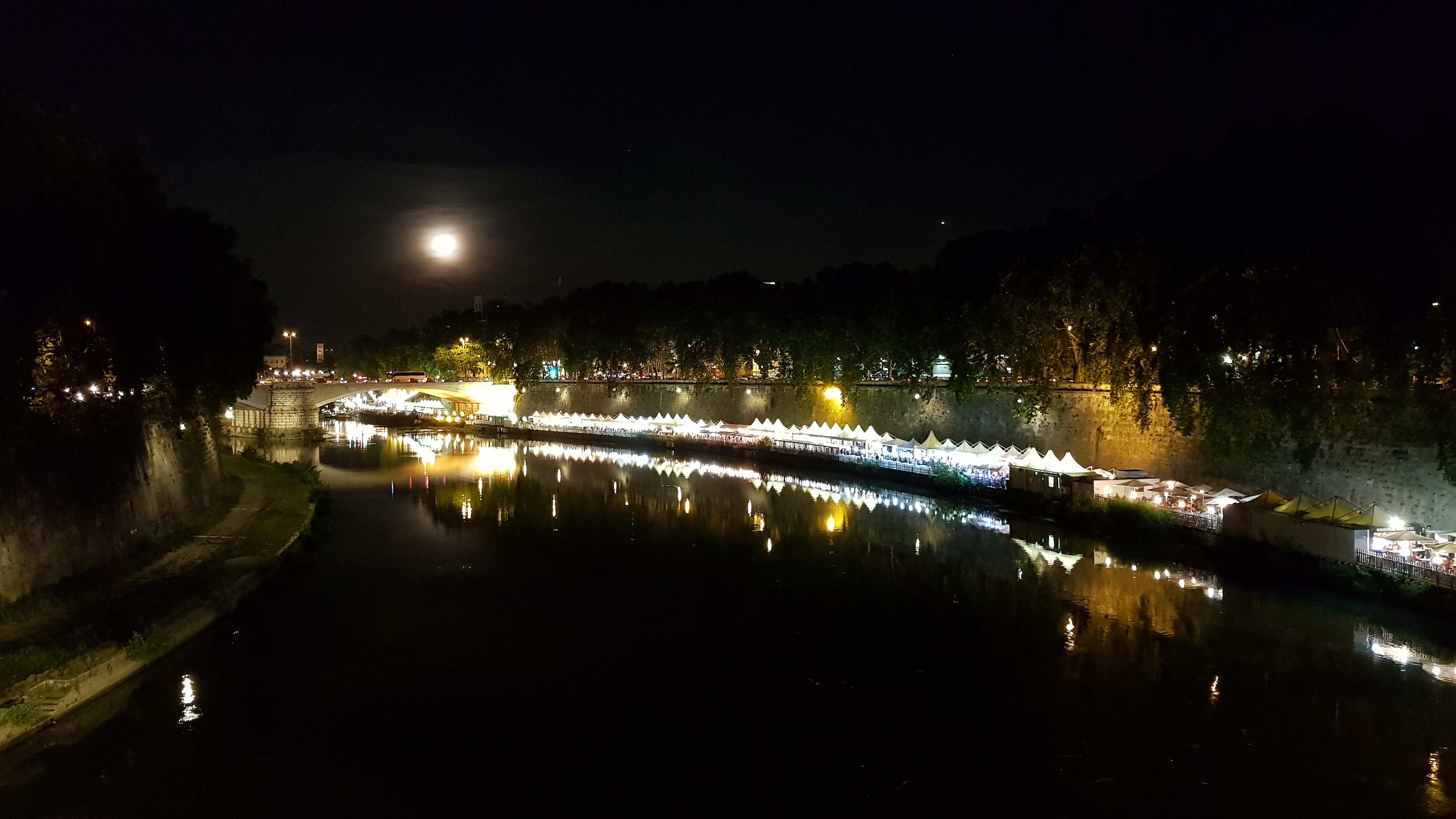 The family all safely put to bed, I snuck out again for a walk. It's Saturday, so the campo was pumping, and so was the south bank of the Tiber for quite some distance. I made it all the way down to the Ponte Sublicio and back along the north bank to Campo de' Fiori at midnight. An interesting detour through the Jewish quarter, full of kosher restaurants and tables of families out late.