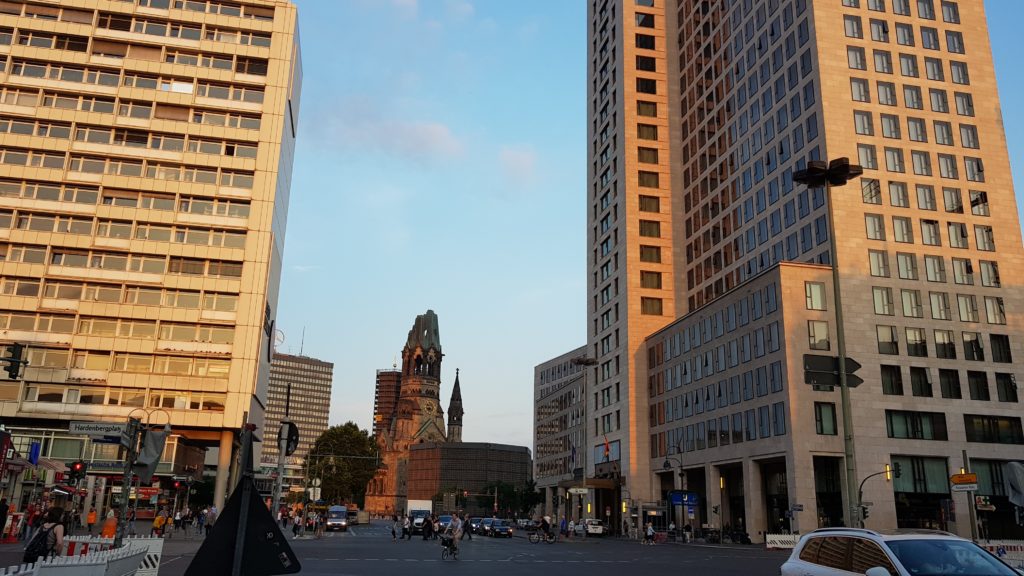 And now it's the boys' time – Anna is off to the south of France while the merry men head east. Gare du Nord is surprisingly familiar – I had completely forgotten that we were there about 65 hours earlier as we got off the Eurostar. We've packed a bit into those hours.
In any event, Thalys 9437 takes us out of Paris and, in short order, out of France, into and out of Belgium and into Germany – Brussels, Liege, Aachen and Köln, and while I trust I'm not the sort of poseur who goes on about Firenze or München when they have time-hallowed names in English, calling it Cologne just seems weird because that's not English, it's French, and the city isn't. It matters little what we call it anyway, because we've just time for a traditional slice of cheese-crust salami from an authentic little charcutier called Pizza Hut before dashing onto the Deutsche Bahn's Inter City Express, which is German for "inter-city express", service 953, to Berlin, via Wuppertal, Hannover and a couple of other cities which would be big enough to have English names if anyone felt the need.
Our seat-mate on the first leg was Daniel (I believe – I gleaned the name from a friend of his addressing him), a Canadian marine biologist of perhaps 70, recently in Australia in connection with an adjunct professorship he is taking up at one of the Perth universities. On the second leg we were in a row by ourselves, not round a table, and thus made no new friend, to my regret.
Eight hours travel has never been so easy or comfortable. I am already regretting that I booked a flight to get us back to France in a few days. Clinging to my aim on this trip of turning the Germans, in my mind, from a bunch of clichés and stereotypes into real people, I worked resolutely to ignore the businessman in the row in front of me who kept looking around to see who had the temerity to be on the phone in what he, erroneously, believed was the quiet zone of the carriage – his mistake being explained to him when he sought to raise the matter with a passing uniform. It was thus, I thought, simply unfair that the man who served me in the dining car – after fawning revoltingly over the blonde 30-year-old ahead of me in the queue – stared at me with open hostility while I tried to order in English, told me that coffee was no longer available, and did so while bearing a truly remarkable physical resemblance to a certain famous Chancellor of the 1930s and 1940s, needing only to trim his moustache to complete the effect. All of which made his subsequent and quite unexpected production of a pair of toy trains and kids' magazines, handed over with a mumbled "for the boys", downright disorienting.
Another shock is the language. While I do not speak French, I can stumble along in it and, more importantly, I know its cadences and tones – I can often guess at meanings by catching a few words or even syllables, combined with expression or gesture. With the exception of one of the cabin staff, a round, friendly woman in her thirties who wished us an enjoyable stay, I am yet to see much in the way of facial expression from any German. This robs me of clues that I desperately need, because, to my surprise, the language is so much white noise. I expected to know few words, but to be unable to guess more than a few vowels is to find myself drowning. The problem is shown up acutely when I am, in fact, addressed in English – I must concentrate closely to make any sense of a language – one in which I have been fluent for forty years – seemingly unmoored from the phonemic pilings with which I am familiar.
No doubt I will get some linguistic bearings in the next day or so. While I do so, a familiar task awaits – to become conversationally fluent in the local transportation system. Berlin Hauptbahnhof is impressively clean, modern, spacious and attractive – eclipsing the previous titleholder on this trip, St Pancras International. Its space and seeming efficiency may have intimidated me slightly, and I found myself lost trying to turn Google's advice for getting to our hotel into action. In my defence, no other city has presented options including three different train networks (local rail, S-bahn and U-bahn) and a bus system, all for getting 10km across the city centre. I asked for help, and was given it, in English, efficiently and unsmilingly. I was sold the appropriate tickets, went to the platform directed, and looked about for the machine with which I was advised I needed to stamp the tickets. At that point, a kindly man took pity, and indicated the small, unmarked, wholly non-descript little box into which I was required to insert the slips of paper. Once on the train, the confusion on my face as I studied (more accurately, scanned without taking anything in) the rail map must again have been obvious, as he politely asked if he could assist. In response to my enthusiastic encouragement, he showed me how to find Berlin Hbf, the Zoologische Garten (where we were required to change to the U-bahn) and Nollendorfplatz, our eventual destination. He guessed my nationality as English – the first person to do so on this trip. I gave him the ten word version of my autobiography. We chatted about his work as a lobbyist in the area of environmental policy and he informed me, as one might tell a friend about a piece of lettuce in his teeth, that Australia needed to do more to reduce its very high per capita carbon emissions. I muttered something about the dispersed nature of our population, but he was right, of course, and I conceded as much, producing another first – the only time so far that I've felt called upon to apologise for the embarrassment that is the Australian government. This must be what Americans – those who can count and spell – feel like much of the time.
While still on the ICE, Raf looked up our hotel, the Sachsenhof on Motzstrasse. The only review we could find giving it less than four stars was from one punter who complained that it had "clean and spacious rooms … RIGHT IN THE GAY DISTRICT". Said punter is absolutely right. Our room is airy and full of character while having everything we could want. The leopard print carpet is gorgeous. It costs less than half what we paid for our cramped attic in Paris. As for the district – "gay" is a fairly timid appellation. Right across the (broad, tidy) street is a bespoke tailor, whose sign says they specialise in leather and rubber but whose (chic, expensive-looking) shop window includes a number of items in very finely worked chain mail, to be worn, apparently, over a G-string. Leaving Raf to unpack, Seb and I go out to find a bite. When we do, it's a plate of sweet-and-sour, basic but just what he needs, for €5, and I'll repeat that, five fucking euros.
I have a good feeling about this town.