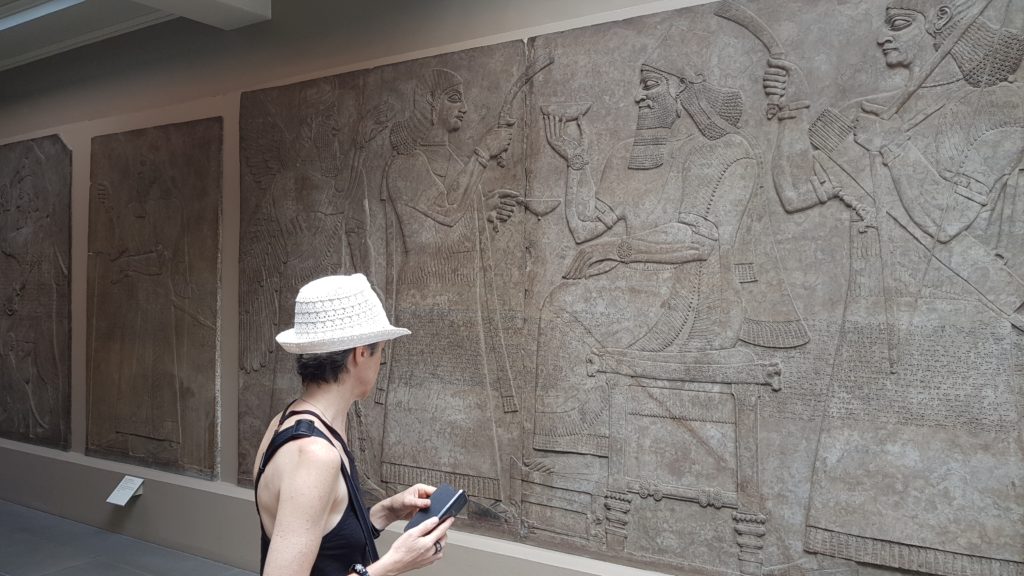 From Steven & Louisa's (playing at being the father of a girl at last, picking out a dress), the train to Paddington, Steven along for the morning. An irritatingly long time spent getting working phones, but the second batch of SIMs proved not to be dodgy. Thereafter by double decker bus to the British Museum, where I was dismayed to see a queue stretched along the street. However, a chat with one of the uniformed chaps through the gate revealed that the delay was due to a fire alarm going off and the application of the precautionary principle. We went for a croissant while they sorted it out. When we came back, we were straight in.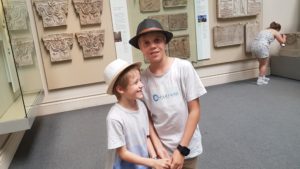 And as entranced as I had hoped. The collection is remarkable. At Seb's call we went first to the Egyptian mummies, although the exhibit that will stick in my head was that of a naturally preserved corpse, 5,500 years old, still showing hanks of hair and the stab wound that killed him. Some Assyrian friezes, of King Ashurnasipal and his attendants, both human and other-worldly. A tremendous depiction of a siege – of a known place at a battle nearly 3,000 years ago, the massed ranks of archers terrifying in their firepower. And the Greek marbles – the capturing of motion, filmy fabric, a breeze stirring hair, in marble by some unknown, long dead genius – were truly moving.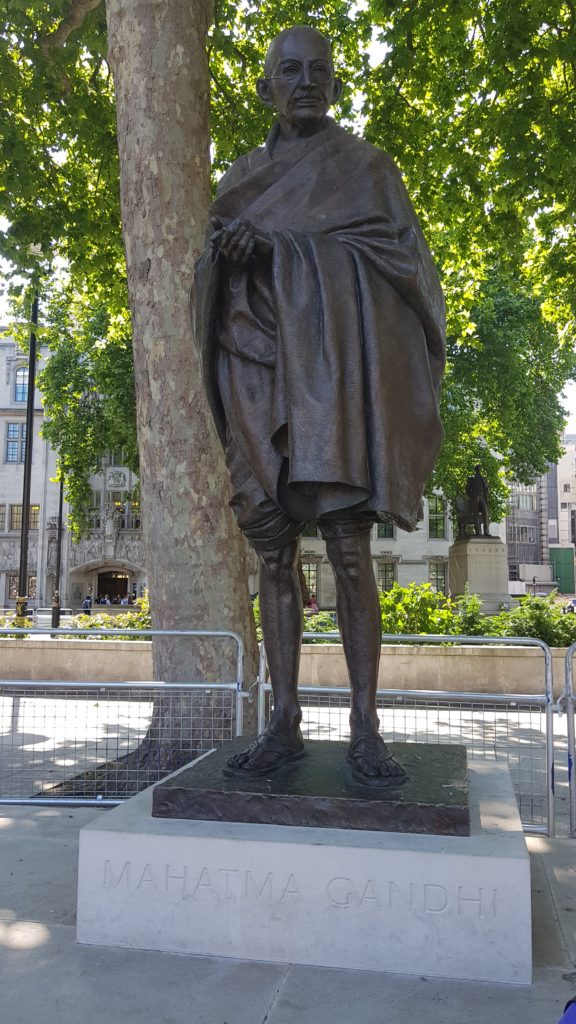 The boys did well-ish – their interest certainly ran out long before the adults', but they restrained themselves from making life unbearable on those grounds alone. A replenishing drink at a milkshake joint that served dog biscuits with peanut butter sauce (from a section of the menu headed "Woof") and frozen custard, but not tea or coffee – Anna and I plainly the wrong age group and/or species to meet their target demographic. Some grumbles as we pressed on to Parliament Square, where the statues have moved themselves in the night. Some familiar figures – the almost Quasimodish Churchill, Smuts the strutting bantam. And some new ones including, most endearingly, Mohandas Gandhi. It was almost a Proud to Be British moment. What other country would enshrine in its Pantheon a foreigner who arguably did more than any person in history to diminish its global standing and power. Unless, of course, one takes the view that at least when he started that project, he was no foreigner, but a British subject, who merely delivered a corrective to arrogant power – our Martin Luther King. I wonder whether that thought would have amused him.
Europe 15 – British Museums